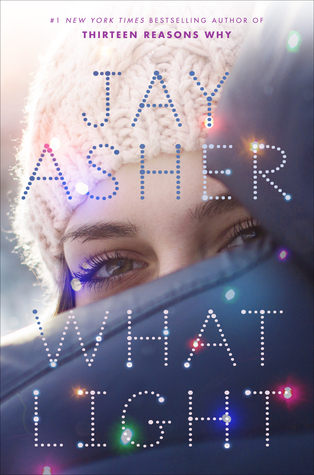 Title: What Light
Author: Jay Asher
Release Date: October 18th 2016
Format: Hardcover
Publisher: Razorbill
Page Count : 251
Genre : Young Adult, Romance, Contemporary, Holiday, Christmas
Reviewer : Taylor
Synopsis via Goodreads
Sierra's family runs a Christmas tree farm in Oregon—it's a bucolic setting for a girl to grow up in, except that every year, they pack up and move to California to set up their Christmas tree lot for the season. So Sierra lives two lives: her life in Oregon and her life at Christmas. And leaving one always means missing the other. 
Until this particular Christmas, when Sierra meets Caleb, and one life eclipses the other.
By reputation, Caleb is not your perfect guy: years ago, he made an enormous mistake and has been paying for it ever since. But Sierra sees beyond Caleb's past and becomes determined to help him find forgiveness and, maybe, redemption. As disapproval, misconceptions, and suspicions swirl around them, Caleb and Sierra discover the one thing that transcends all else: true love.
What Light is a love story that's moving and life-affirming and completely unforgettable
Let me start by saying CHRISTMAS! This was just the best fluffy Christmas read it was like watching a lifetime movie play out!
I really enjoyed the characters in this story. Sierra explaining her role on the farm in the very beginning of the book just gave it such a real feeling. She struggles with having two separate lives in such a true way. Her friends Oregon do not truly understand that she also has a life in California with other friends and childhood memories. I also liked that she was not focused on boys in either area of her life.
Caleb was just a breath of fresh air for me. I have seen reviews where people call him boring but I could not disagree more. He comes from a divorced family and suffers mental because of this. I truly felt his story and his break down was true of someone who is suffering from pressure and sadness. 
The relationship was LIFE! It was a wonderful slow burn yes it is not over a long period of time but they spend time talking instead of kissing. I feel like the truly found an understanding with each other.
The friend aspect of this story has been mixed reviews for people. I think that she was not a bad friend. She missed a few things here and there but for once I feel as though she was putting her heart ahead of other things. Her friends understood that in the end and that is what matters.
 I loved that this had a coming full circle story line! (can not say more than that without being to spoilery) I will be rereading this every Christmas. Easy five stars!
                                                               ★★★★★
Favorite Quote 
"People think what they want. That's what I've had to accept," he says. "I can fight it, but that's exhausting. I can feel hurt about it, but that's torture. Or I can decide it's their loss."